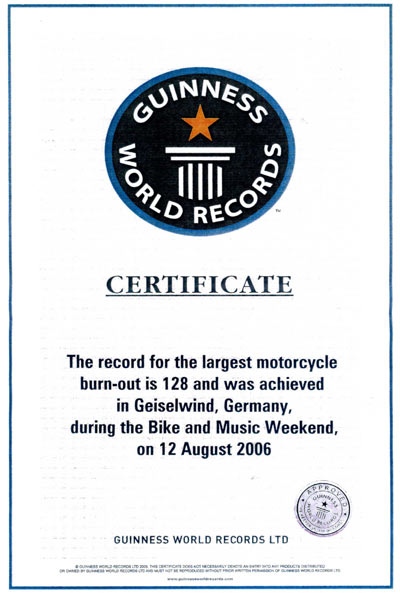 We perform a burnout contest every year during the event. The jury evaluates the best burnouts in the categories of cars, bikes and specials. The winners of the respective classes receive a prize in addition to the trophy. The steadily growing number of vehicles specially designed for this contest is impressive.
At the same time, the now quite considerable number of participants required a reorganization.
NEW for this year is that on Saturday at 19 °° clock the final decision among the best of the respective classes is carried out. All interested participants have the opportunity to recommend themselves in one of two qualifications for the final. Burnout Contest Qualification runs will be held on Friday at 19.00 hours and Saturday at 16.30 hours. Interested parties should register at the respective Infostände in advance. The winners of the preliminary competitions are then allowed exclusively to the final.
For all bikers this year, an additional "burnt plate" is available for burnouts. However, "Safety First" applies in principle. As soon as there is a danger for other visitors, or the participant / driver is under the influence of alcohol, disqualification is unavoidable. In this regard, the staff must be immediately followed. The organizer reserves the right at all times to prohibit any further traffic on the event grounds.
Basically it is essential: Safety First!